:: Cinestill - Huge Projectors
Cinestill is a far distance Huge image projector, especially design for outdoor advertising and night piece. The special HATM optical system can create colorful and exquisite image on the wall 20-120 mt far away. It has a technology such as program control images to move, revolve, twinkle and so on. The most special is Projection flash of Multilamps combination application technology, causes Cinestill system no longer a simple image projector; provides outdoor advertisement development an ultra imagination and Infinite Creativity.

The single unit can be installed by face downward, horizontal, upward and different angle application. The application of single unit and combinations unit technology may cover any scale of advertisement, performance or event, and landscape situation of occasion.

Applications :

Advertisements, Exhibitions, Promotions, Launch,
Events, Corporate Branding, Festivals, Sport Events,
Ceremony.. and other Infinite Creativity..
One JG 5000D(Projector) can cover all Outdoor Applications like Whole Wall, wall with some windows, Glass wall, Billboard, Air Modules etc..
Key Important Points ::

>
A single unit can project upto 200 sq.mtr. from the distance of 60-100 mtr. from the projection.
>
Each Machine can give 18 - 32 Advertisements within intervals at a period of time.
>
The Combination of more than 2 machines can be connected with the help of software to give a large single image of more than 400 sq. mtr.
>
Multiply your machines and the projection will be bigger as per your canvas size.
:: Specifications ::
>
Electrical Source is 380v 3Phase4Line
Life of Bulb is 600-1000 Hrs.
Operate Temperature : -40c - + 40c
Projector applications hours : 8-10 hrs/day



:: Cinestill -
Visuals
The biggest projection (3000 sq. mtr.) in Middle East at ADCO Business office building in Abu Dhabi.

Venue : ADCO Business office Building, Corniche Road - Abu Dhabi for UAE National Day 2008

One Projector can project from 25 sq. mt. to 200 sq. mtr. depends upon the adjust local chart of the projector:
:: Demo of Cinestill Projector Illustration ::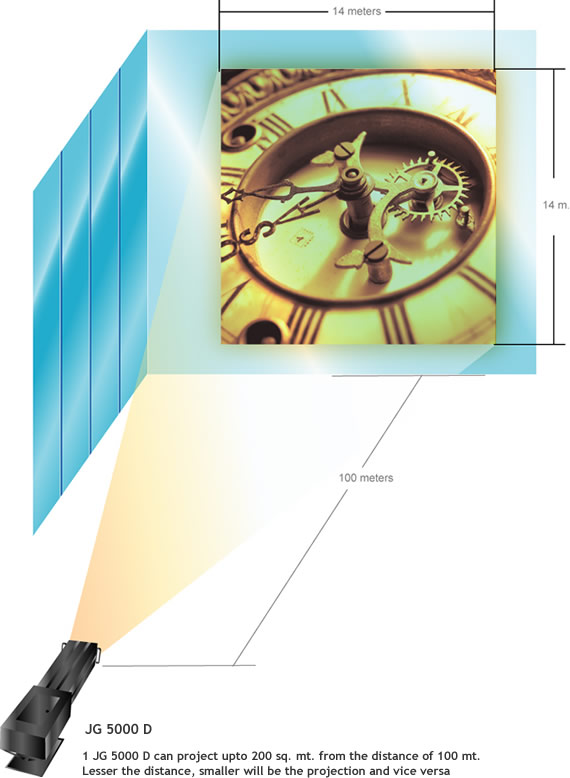 Our Cinestill Agents in the Middle East and African Subcontinent
Company Name
City/Country
Contact Nos
Person Name
Tibisti Advertising
Tibisti, Libya
00 218 912111681
00 218 924111681
Mr. Abdul Basit Gharsallah
Corta Corporate Tanzania
Dar es Salaam, Tanzania
00 255 732923372
00 255 784780 615
Mr. Captain George Mazulla